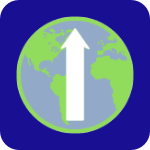 GPS Survival Navigation App and GPS Tools …
without internet! *
* excluding functions like real-time maps,
Poynterra Collections downloads, and waypoint import/export
What is Poynterra Trekker?
Poynterra Trekker is a unique, versatile GPS navigation app that literally points you to any location on earth (a waypoint) without using the internet. If you're an off-the-beaten-track trekker who would welcome a GPS lifeline in remote areas, this is the best waypoint app for you. Laying down GPS tracks is easy in ROAM and TRIP modes, ensuring easy return to previous waypoints. And as an ultimate lifeline, we've added SOS Emergency Flasher. Or, if you're a less adventurous traveler (like on a peaceful cruise), you'll find it fun and informative to track distance and direction to foreign ports on the open seas and for sightseeing on land. On a biking trip, you'll love AudioPoynt™, which points you to your destination through your phone speaker or earbuds even when your phone is off. All of this, and much more, functions without wifi or a cell connection!
Besides navigation, Poynterra Trekker has tons of powerful waypoint management features. Waypoints with descriptive info can be easily added to user-created folders and copied/moved between them. Waypoints and folders are easily exported and shared (does require internet), especially with other Poynterra users, in a number of file formats.
The capability to import sets of waypoints directly into folders is one of Poynterra Trekker's most powerful features and can take planning of your trekking and sightseeing to an entirely new level. Waypoint data can be in the form of KML/KMZ files created with Google My Maps, Google Earth or other sources, CSV files from spreadsheets, and GPX files from other location tracking devices. Folders exported as PYNZ files (our own format) by you or other Poynterra Trekker users can be imported without losing any of the original information.
What are Poynterra Collections?
Poynterra Collections are ready-made, curated sets of waypoints hosted on Google's Firebase server, downloadable directly into Poynterra Trekker via Menu>Collections or by scanning the Collection's unique QR code.  Collections are either free of charge or inexpensive in-app purchases. At present, the number of Poynterra Collections is small, but we intend to grow the catalog rapidly going forward.
Poynterra Trekker's platform can also host Poynterra Collections from other content creators. If you're interested in distributing your own sets of waypoints, privately or publicly, for free or for app store income, please contact us at info@mindsparkinc.com to explore the possibilities!
FAQ (Frequently-Asked Questions)
(in Airplane Mode - no internet!)
NEW FEATURE!  
flash visible Morse code SOS every 15 seconds (Menu>SOS)
with the built-in Tutorial and 

HelpTool™

, easily learn about almost any function on any screen, any time 

create new waypoint folders (unlimited in FULL version)
add new waypoints using your device's GPS
save waypoints to folders (unlimited in FULL version)
edit waypoint info and copy/move between folders
show distance between any two saved waypoints
navigate by simple pointer to any saved waypoint
show speed, altitude and compass direction while navigating
initiate navigation RUN automatically at custom intervals
navigate via 

AudioPoynt

™

 while your device is off and hidden in your pocket (great for bicycling!)
in TRIP mode, track progress and ETA to a destination waypoint while saving map data (try from the window seat of your next airplane flight!)
in ROAM mode with no set destination, track location while saving map data
in EquatorWatch

™

, track your approach to the equator in real time! (access at Menu>Settings)
(additional features with internet)
download ready-made folders of waypoints via Poynterra Collections (Menu>Collections)
share waypoints
export and import folders
back-up all folders and content to a single shareable file
send waypoints to your vehicle (works great with Tesla!)
import waypoints and folders in KML, KMZ, GPX, CSV and PYNZ file formats
display folder waypoints maps, with street/terrain/satellite layer options
add a new waypoint by tapping directly on a map
with GeoSearch, add new waypoint coordinates by searching for a place name or address
tap a single button to start Google Navigation to any selected waypoint
with

LinePoynt

™, 

display a line on a map in the direction you're pointing your smartphone
triangulate the location of a distant landmark
share your current location
view TRIP and ROAM maps, and share collected data in various formats